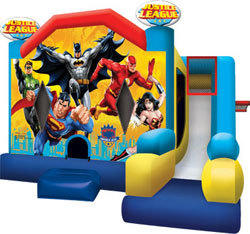 Justice League Combo
Justice League Inflatable Combo Bounce
Our Justice League inflatable Combo Bouncer is one of our newest additions to our inventory. This inflatable is pretty sweet. Offers basketball hoop on the outside as well as the inside of the unit. There are some vertical obstacles inside this inflatable, a climbing wall and slide that lead to the outside. This is a dry use only inflatable, please do not apply water to this unit. Great for kids of all ages, especially those that are interested in superheroes like batman, flash gordon, green lantern, wonder woman and superman. This inflatable is in like new condition.
Size approx: 18x18

Power Requirements: 1.5 HP Blower (110V-15amp)
Electricity should be within 50-100 feet of setup area.