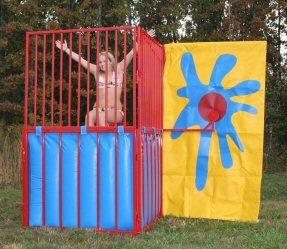 Portable Dunk Tank
Dunk Tank has a clear front so you can see the volunteer fall into the water(not shown in image)
Backdrop maybe one of these three target styles:
1: Yellow Splash
2: Aquarium Theme
You may request a certain backdrop in the comments, we will try to bring the one requested if its available, if not another will be brought.
This Dunk Tank is perfect for family fun and corporate events. Dunk your favorite teacher, or plan a big fundraiser. "Betcha $5 per throw you miss" it's a great way to make fun donations to your sponsored charities.
350 Gallon,
We DO NOT provide the water, you must have a water source with HOSE nearby to fill.
Filling takes about 30-45 minutes, we normally show up early to allow this filling time.