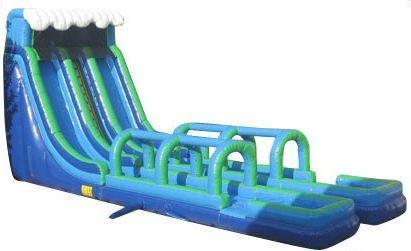 24' Double Lane Water Slide 'Geronimo'
HUGE 24' TALL DOUBLE LANE WATER SLIDE
THIS MASSIVE WATER SLIDE IS GREAT FOR PARTIES WITH BIG KIDS AND ADULTS. THE CLIMBING LADDER IS QUITE STEEP AND CAN BE DIFFICULT TO CLIMB. NOT FOR SMALL KIDS AND PEOPLE THAT HAVE LIMITED PHYSICAL ABILITIES. THE SLIDE IS VERY STEEP ALSO, BE PREPARED FOR A LITTLE VERTIGO!
IT IS A TOTAL RUSH!!!!!!!!!!
May be rented with main slide base and slip n slide extensions making it about 60' long. Two pools are included at the end of the slip n slide extensions. see the optional items below the cart to add this once you have added it cart you will be able to see this option.

POWER: UPTO 3 GFCI PROTECTED CIRCUITS 15AMP 110V
WATER SOURCE MUST ALSO BE NEARBY (50')

This water slide rental must be setup either on healthy grass or solid surface such as concrete or asphault.
Gravel and Dirt or areas prone to become muddy are prohibited.

NO MORE THAN TWO RIDERS AT THE TOP OF SLIDE AT A TIME.
NO MORE THAN ONE PERSON CLIMBING THE LADDER AT A TIME.
THERE IS A RISK OF ACCIDENTLY SLIDING DOWN THE LADDER AREA AS IT BECOMES WET AND SLIPPERY AS WELL, HOLD ON TIGHT AND CLIMB CAREFULLY.

HAVE FUN WITH OUR GIANT WATER SLIDE RENTAL.